The National Center on Time & Learning (NCTL) has been dedicated to expanding learning time to improve student achievement and enable a well-rounded education. NCTL grew out of the work of Massachusetts 2020, a Boston-based non-profit founded in 2000 by Chris Gabrieli, a civic and business entrepreneur, and Jennifer Davis, former Deputy Assistant Secretary at the U.S. Department of Education.
Massachusetts 2020

Massachusetts 2020's mission was to expand educational and economic opportunities for children and families across Massachusetts. The organization's initial efforts focused on expanding after-school and summer learning opportunities for children across Massachusetts.
Massachusetts 2020 was a lead partner in launching several major initiatives, including Boston's After-School for All Partnership, the largest public-private partnership (over $26 million) dedicated to children in Boston's history; the Keeping Kids on Track Statewide Campaign in partnership with the five largest United Way organizations in Massachusetts; and the statewide Middle School Initiative in partnership with Citizen Schools and several private funders.
Massachusetts ELT Initiative
Taking lessons from the highest quality after-school programs, from charter and district schools that use significantly more learning time, and from their own research, Massachusetts 2020 recognized the need for a newly redesigned school day. In partnership with the Massachusetts Legislature, Governor, and the Massachusetts Department of Elementary and Secondary Education, Massachusetts 2020 helped to launch the Massachusetts ELT Initiative. In 2005 the ELT Initiative began with $500,000 in the state budget for planning grants; now the initiative supports 21 schools in 11 districts serving more than 12,200 students rebuild their educational program with 300 additional hours per year with more than $14.1M in state funding. 
In 2010, the National Center on Time & Learning became the official organization name and Massachusetts 2020 became NCTL's state affiliate.
National Center on Time & Learning

Recognizing the need for a similar national effort, Chris Gabrieli, Jennifer Davis, and Paul Reville, a longtime education thought leader, formed NCTL to expand Massachusetts 2020's work into more states and to develop policies at the federal level to support expanded learning time in schools. NCTL launched in October 2007 at the Center for American Progress in Washington, D.C. with U.S. Senator Edward M. Kennedy outlining the case for more learning time.
NCTL has been at the forefront of the expanded learning time movement working with numerous state departments of education and supporting more than 100 schools and districts. We've provided expert support to districts, schools, and states in their work to ensure all time kids spend in school is valuable, and we've helped them capitalize on the promise of expanded learning time to provide students and teachers with a rich and engaging learning environment.

In May 2012, NCTL and the Ford Foundation partnered to form the Time to Succeed Coalition (TSC). TSC gained national attention as a broad and diverse coalition working to ensure that all children in our nation's high-poverty communities have more and better learning time in school to prepare them for success.
The TIME Collaborative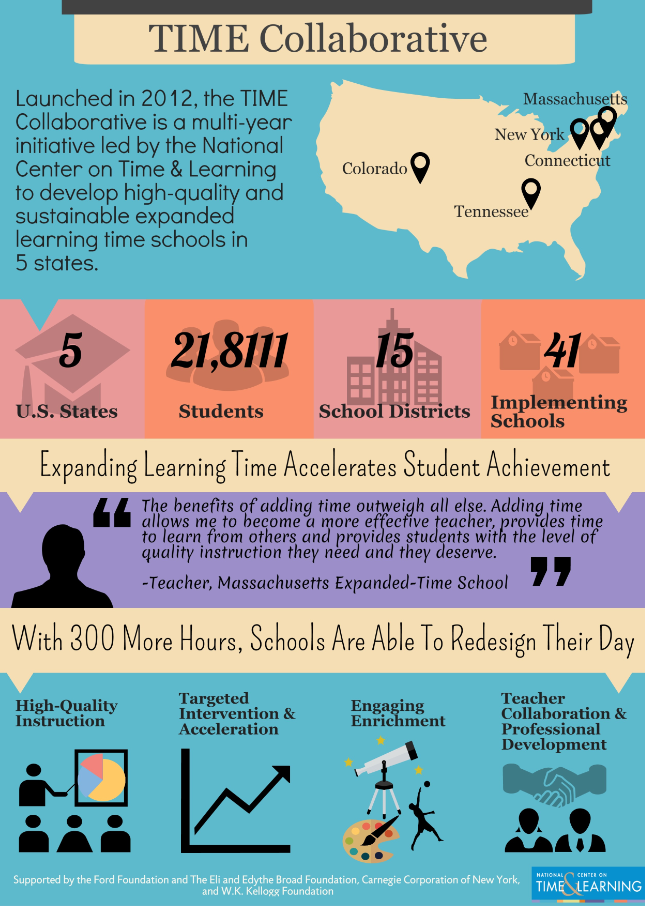 In December 2012, NCTL with support from the Ford Foundation, The Eli and Edythe Broad Foundation, Carnegie Corporation of New York, the W.K. Kellogg Foundation, and local partners, launched the TIME Collaborative. The TIME Collaborative developed high-quality and sustainable expanded learning time (ELT) schools in five states - Colorado, Connecticut, Massachusetts, New York and Tennessee. Nearly 22,000 students in 41 schools benefited from a redesigned and expanded school day in the 2014-2015 school year. An additional 3,000 students benefited from an expanded school calendar during the 2015-2016 school year.
NCTL Transitions
In June 2016, Jennifer Davis and Chris Gabrieli released the following letter: 
We are reaching out to you today as the co-founders of Mass 2020 and NCTL to announce news on our progress and future plans.  As most of you know, we have spent the last fifteen years advocating for and supporting expanded learning time for children, particularly those living in poverty.  Our goal when we launched our organizations was to see many more children in Massachusetts and nationally have access to the same educational opportunities our own children experience.  Our hope, and stated mission, was that by 2020 over one million children would have access to expanded learning and enrichment opportunities in ELT schools.
We are pleased to share that due to federal and state policy changes, the commitment of many district and school leaders, the expansion of the charter school sector and our direct support to districts and schools, that goal was met five years early.  Our home state of Massachusetts continues to lead the national ELT movement and now has over 140 urban schools that offer significantly more learning time for academics and a well-rounded education.   All schools serving k-8 students in Lawrence and half of the schools serving k-8 students in Fall River and Revere offer expanded learning time and are seeing very promising results. We want to thank our talented staff, supportive funders and many partners and allies for helping to make all of this possible in Massachusetts and across the country.
In light of shifts in the national funding landscape, and after an extensive strategic planning process, NCTL's management and Board determined this spring that it was the appropriate time to change course and explore new ways to deliver impact on behalf of children.  We have agreed it is now time for our work to become embedded in larger agendas around school reform and addressing educational inequity in America. As a result, NCTL plans to transition its work to Empower Schools and the Education Redesign Lab at Harvard's Graduate School of Education.
Jennifer Davis will be leading the effort to bring NCTL's expertise, tools and intellectual property to the Education Redesign Lab and specifically its recently launched "By All Means" initiative in six cities across America. Founded by one of NCTL's original co-chairs and former Massachusetts Secretary of Education, Paul Reville, the Education Redesign Lab and the 6-city agenda provide an important opportunity to leverage NCTL's national legacy.
Our policy efforts, as well as our ongoing technical assistance in Massachusetts, and our Continuous Improvement ELT school network will continue through a merger with Empower schools.  Chris Gabrieli, NCTL's co-founder and former chairman, serves as the CEO of Empower Schools.  The Empower team will be joined by a few NCTL staff to continue this important work.  As many of you know, Empower Schools is supporting an empowerment zone in Springfield to turn around a group of middle schools and also played a significant role in the design and launch of the Lawrence turnaround.
We have appreciated your partnership and support over the years and look forward to continuing to work with you through these new arrangements as the transitions unfold over the summer and beyond.  We have never been more committed to the notion that our schools must be modernized to better meet the needs of all children and to ensure students are prepared for success in higher education, careers and in life.   We are so thankful for our incredible supporters and staff over these fifteen years, many of whom have gone on to contribute in very significant ways to expanding and improving educational opportunities for children. We plan to keep up the fight toward educational excellence working alongside so many of you in the field.
Sincerely,
Jennifer Davis and Chris Gabrieli